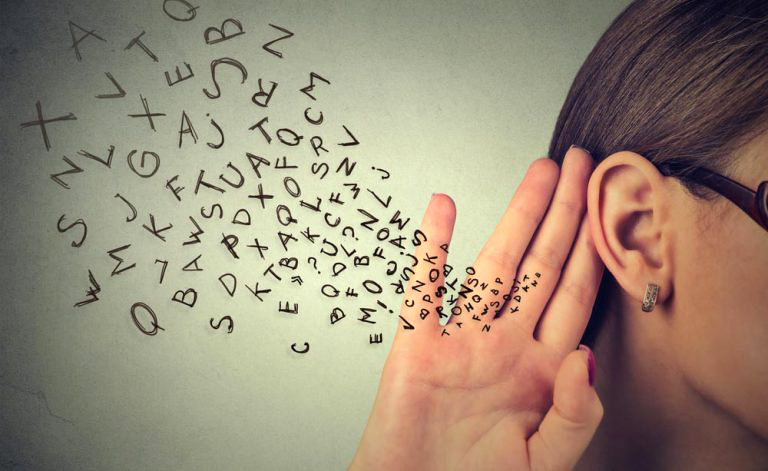 Ears are crucial wherever eyes cannot help. We can't see someone trapped in a storm drain, a coalmine, or under the debris of a collapsed building, but we can hear them. When we're asleep – and our eyes are closed – a way to know we're in danger is for someone to appeal to our ears with a loud "Wake up!"
We tend to equate knowledge with our ability to see. We use our eyes to learn, to read, to discern between one thing and another. But hearing contributes more to our knowledge than sight does. The majority of the knowledge we gleaned through schooling was gathered, yes, by reading books with our eyes, but more so by hearing the texts and the subjects they discussed interpreted by our teachers and reflected on by fellow students. In a similar way, transcendental knowledge is acquired by hearing. To see properly, open your ears.
The Upanishads, Gita, Bhagavata, and other texts are sacred sound that existed prior to being set down in writing. These sounds are not human-made but are inherent in and underlying nature. This understanding is similar to the conclusion of some mathematicians that mathematical formulas always exist and are revealed or discovered rather than invented by the human mind.
We may recoil from the idea of revelation. We've heard speakers cite books to make their points only to misunderstand or misuse the text. And from revealed books of knowledge, we've also seen people form rigid rules or state that everything in the book being cited is applicable at all times and in all circumstances. This sort of interpretation of revelation is unappealing, so we step away.
Illuminating sound that appears from the Supreme and enters the ears and hearts of those connected with him through wise-love is attractive and relevant. Such sound rises up from the hearts of the devoted, dances on their tongues, and finds its way into our ears. If we allow this sound to further enter our hearts, we'll live with heartfulness and move into the realm of wise-love.
We might contemplate a question about how to pursue this insight: would a conscious person respond openly to us if we probed and cut and measured and stole in search of his or her secrets? A better way to know something of our lover is to earn his or her trust. Trust opens the door to a lover's innermost secrets. Trust finds full expression in love: a loving approach is the way the Infinite, who is fully capable of revealing himself to the finite, responds to us.
True revelations guide us past obstacles and toward our highest self-interest. The inner life, although subtle, is deep, rich, and broad, layered with meaning and knowing not available to those who remain focused on the external world and the methods of taking and demanding.
Sages, mystics, and seers show how internal perceptions can be honed and refined until we can see and speak directly to the supreme Sentient Being. The more often we head in the direction of our inner home through habit and attention, the quicker we can return fully present there, and the more profound our insights become. The inner journey is made by repeated and regular excursions inward. These refine our spiritual sensibilities and cognition. Our spiritual faculties – mind, intelligence, and a full set of senses – can perform all the functions of the mundane mind and senses.
We have practical experience how the external senses of perception can be developed when there's a need. The blind describe that their hearing, smelling, and touching become acutely sensitive, for example. Similarly, those who are practiced at meditation become more aware of physical and psychic states than they were prior to learning to control the mind. Speak with pain management specialists who use breathing exercises and meditation in their practice, and you'll learn how chronic pain sufferers can change their levels of pain by controlling the mind. These are just some of the ways we can evolve our sense perception. There are subtler ways, too.
The Gita was captured through an inner spiritual vision. Krishna and his warrior friend Arjuna were speaking as they drew their chariot onto a battlefield between opposing armies. They were about to wage a world war. Neither Krishna nor Arjuna wrote down their conversation. It was Sanjaya, a mystic in a king's court, who had the yogic ability to see the scene and hear the conversation in his heart even though he was distant from the battlefield. The king, who was blind and who also had sons on the battlefield, heard the details of each day's fighting from Sanjaya. He had the capacity to see and hear what was transpiring at a distance, just as, in a similar fashion, an antenna, when rightly made and positioned, can deliver sound and images to the viewing instrument.
Untethered from matter, the self's capacity of perception and expression far outreaches the mind's and can probe the most secret of secrets. In the conversation between Krishna and Arjuna, Krishna says, speaking, really, to all souls:
mayy asakta-manah partha
yogam yunjan mad ashrayah
asamshayam samagram mam
yatha jnasyasi tach chrinu
"Now hear, O son of Pritha [Arjuna], how by practicing yoga in full consciousness of me, with mind attached to me, you can know me in full, free from doubt." (Gita 7.1)
Seers explain that sounds of revelation form a bridge between matter and spirit. These sounds activate and enable the spiritual heart and senses to perceive things that are beyond the world of matter. In other words, I have an inherent ability to perceive everything in the land of consciousness, and books of revelation serve as outlines to guide me there. The bhakti texts are love letters from the kind heart of the Divine Person, written about his life, which invite us to the homeland of our hearts.
As poignant as Bhakti Vedantic texts are, many are abstract, and because they are so voluminous, making sense of them requires assistance from one who has assimilated and harmonized them in his or her practical life. Homeward-bound teachers help us tease out the meanings and applications of revealed sound.
Do we really need scriptures? Do we really need a guide? Not if we listened to the world that always speaks to us. But we don't listen, usually, and even when we do, we don't listen like seers. We're not always sure what we're hearing. We don't always have enough context to understand what's being revealed to us. We purposely or helplessly talk and take and pillage and then ignore all the grieving sounds others make as they suffer at our hands. After all, we think, I'm inherently good. What can be done?
Keeping company with someone who is listening, whose ears, eyes, and heart attend to the Absolute, opens us to how we too can hear and see revelation. A saint listening to the song of the Supreme in her or his heart can help us hear. A seer can help us see.
The text you read is taken from the book by Pranada devi dasi "Wise Love", "Chapter 17.